Crowdfunding project aims to rebuild the original «Volkswagen» of Jewish engineer Josef Ganz
https://www.indiegogo.com/projects/restoring-josef-ganz-s-1933-vw-beetle-forerunner/x/15995917#/
The Hague, the Netherlands / Bern, Switzerland – Unique crowdfunding project aims to restore the original «Volkswagen» developed by Jewish engineer Josef Ganz and presented before Adolf Hitler at the 1933 Berlin motor show. Fast forward five years: Hitler introduces the Volkswagen to the German people while the Nazis deliberately erased Josef Ganz from the pages of history.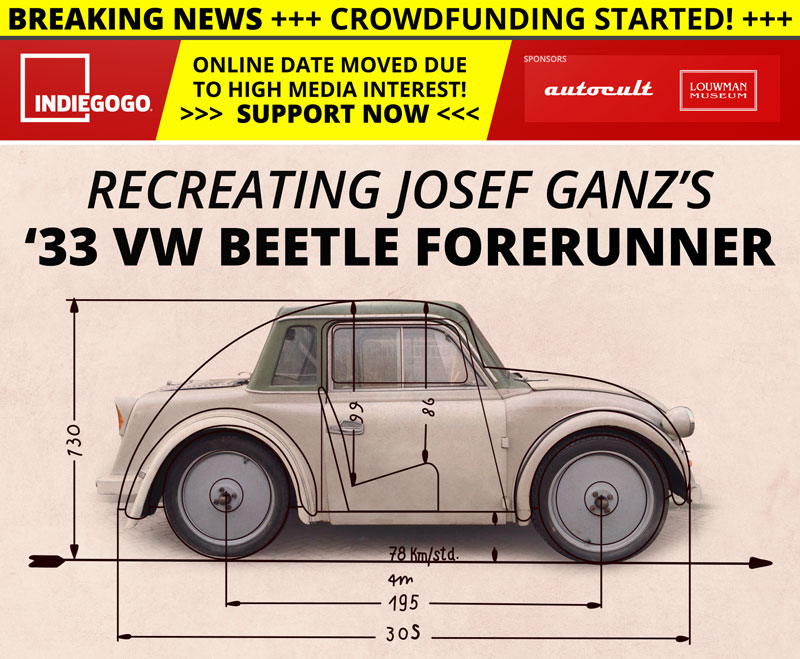 Only surviving car
This project is initiated by Paul Schilperoord from the Netherlands, writer of the book The Extraordinary Life of Josef Ganz – The Jewish Engineer Behind Hitler's Volkswagen, and Lorenz Schmid, a Swiss-born relative of Josef Ganz. Together, we secured the only surviving rolling chassis of Josef Ganz's «Volkswagen»: the Standard Superior type I. An estimated number of around 250 cars were built in April to September 1933.
Presentation at Louwman Museum
Our car survived as it was kept on the road in East Germany for decades, but the bodywork has been largely modified using Trabant parts. Working with professional restorers, we want to recreate the original wooden bodywork of this car – and use the car to promote the work of the forgotten genius Josef Ganz. We aim to unveil the finished car in 2018 during a special event at the prestigious Louwman Museum in The Hague, the Netherlands.
Milestone in automotive history
The Standard Superior is the embodiment of Josef Ganz's propaganda campaign «For the German Volkswagen». As editor-in-chief of Motor-Kritik magazine, in the period 1928-1933, he outlined the specifications for this future car: low-slung, streamlined, backbone chassis, rear-mounted engine, fully independent suspension with swing axles and a price not exceeding 1,000 Reichsmark.
His vision first materialized in his 1931 Maikäfer (May Bug) prototype. Josef Ganz inspired the industry to develop radical new prototypes – including the Zündapp Type 12 and NSU Type 32 «Volksauto» prototypes by Ferdinand Porsche. At the time of its introduction at the Berlin motor show in 1933, the Standard Superior was the only 4-wheeled, rear-engined production car in Germany. It even inspired Hitler to realize the ultimate Volkswagen for the German people, developed by Porsche. Sadly, Ganz was nearly assassinated and erased from history.
Unique perks
Our crowdfunding campaign has kicked off on the Indiegogo platform. Working with selected partners, we offer a number of unique perks in return for support. More information will be available closer to our release date. For starters, we will offer an exclusive 20% discount combo pack for super early bird backers, including:
---
Photos in high resolution are available for download via Dropbox.
Download this press release in PDF:
---
For more information on this project please contact
Paul Schilperoord in the Netherlands, [email protected], M +31 (0)6 41887902 or
Lorenz Schmid in Switzerland, [email protected], M + 41 (0)79 5960096.
Direct link to the Crowdfunding News on this website: www.josefganz.org/crowdfunding
---