The movie event at the Swiss Museum of Transport on 12 September 2020 was a great success, sold out within the Covid-limitations. In the brand new movie theater of the museum the guests enjoyed the wonderful 85-minute documentary from Suzanne Raes and took the opportunity to ask her and the Josef Ganz relative Lorenz Schmid their questions. Unfortunately, the Josef Ganz biographer Paul Schilperoord could not be present.
We would like to take this opportunity to sincerely thank all those involved for this unforgettable event: the Swiss Museum of Transport, above all Daniel Geissmann, who organised so much with such verve and efficiency. Also the media, who drew attention to the event (Blick and 10vor10), the Swiss Car Register for their active support, and Suzanne Raes for her presence.
This fantastic collection was on show at the Swiss Museum of Transport in Lucerne after the event: the Maikäfer, the Swiss Volkswagen Rapid, the Standard Superior and the Volkswagen Käfer. In the meantime, the documentary was shown again on 3Sat and there were many great reactions. Many thanks for that!
---
After the event, there was a meeting between René Beyer, the owner of Switzerland's oldest watch shop Beyer Chronometrie at Bahnhofstrasse in Zurich, and Lorenz Schmid. Many years after the picture of Josef Ganz on his Standard Superior (1935), the two posed in front of the shop. Incredible!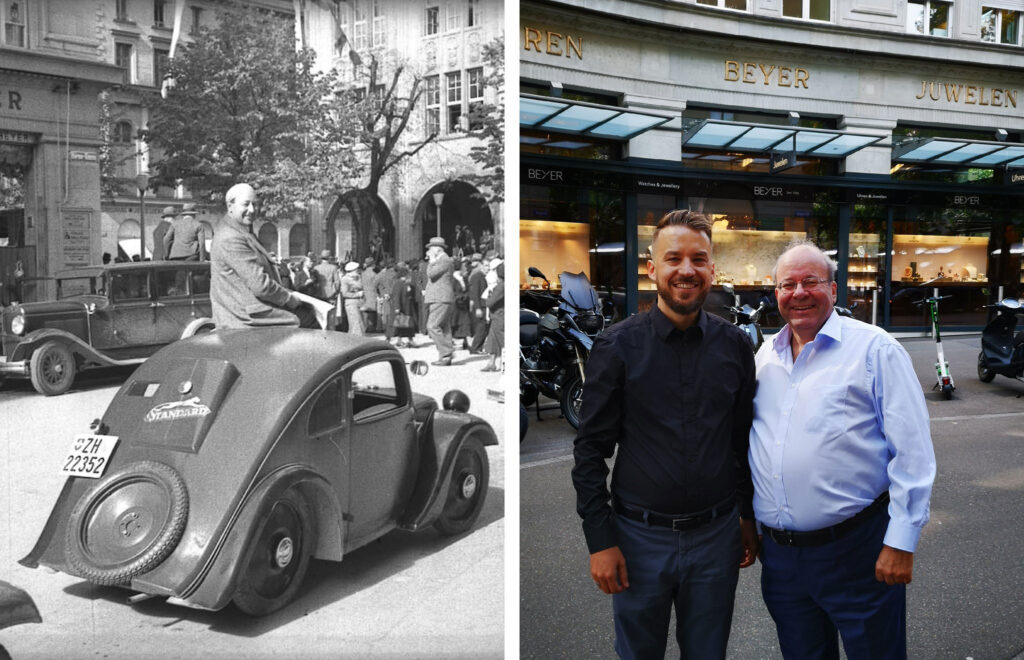 ---
Numerous new activities are planned. We are currently in the process of matriculating the 1933 Standard Superior in Switzerland. Exciting events around Josef Ganz are coming up in Germany, Switzerland and Hungary, which we are very excited about! We will keep you up to date here. Stay tuned!